Help Collect Invasive Ivy Samples

The State Noxious Weed Control Board is seeking the public's help working on a project to conduct an updated sampling of escaped, invasive ivy in Washington to determine whether Atlantic ivy, Helix hibernica (commonly called English ivy), is still the more abundant species compared to English ivy, Hedera helix.  A 1999 study (Murai 1999) examined 58 wild ivy populations from southern British Columbia to northern Oregon and determined 83% of them were made up of Atlantic ivy. With this project, our goal is to collect a large number of invasive ivy samples in Washington State to determine at as fine a scale as possible, what ivy species is invasive in the state and where it is growing. Leaf size and shape, along with small hairs on the plant, will be the main traits we use to identify the species of the sample. Some of the samples may be used to make herbarium specimens or used for genetic testing. The information from this study will be used in the effort to propose quarantining one or both ivy species that are found to be invasive in Washington. 

We need your help! Be a citizen scientist - read the following instructions to find out how to collect and submit samples.
Supplies needed for collection:
Gloves: some people are sensitive to ivy sap and can develop a skin rash upon contact. Cover your hands and exposed skin.
Damp paper towel or tissue
Plastic bag
Piece of paper and pencil or pen
Envelope (padded or 8.5 by 11") and postage
Phone or camera to take a picture (not necessary to submit a sample but helpful for this project)
WHAT TO SEND US: Click here for a PDF of the following collection information
 
Select and cut 1 or 2 stems (2 are preferable), each with 10 to 12 leaves. Click here to see an example. If stems are not long enough, select several shorter stems. 
Collect samples from wild growing plants, not from ivy in ornamental plantings. Samples collected can be from invasive ivy on your property. Ask for permission first if you collect samples from other private property.
If taking a cutting from a park, please stay on the trails, do not go off-trail, samples should be collected from along the edge of the trails. This is for your safety and to protect the surrounding vegetation.
Make sure to avoid disturbing other plants. Only collect your ivy samples, do not remove other plants when collecting.
If you collect a sample in a state park, click here to download our permit to have with you when collecting your sample.
If you collect a sample in public parks in the city of Lake Forest Park, please click here to download and fill out their volunteer application.
If you collect a sample in public parks in the city of Kenmore, please email Jennifer Gordon before collecting your sample.
Please send in: stem material from non-flowering, non-fruiting stems with leaves having 3 to 5 lobes (a "traditional" ivy leaf). Click here for examples. Stems growing along the ground typically do not flower or fruit so make good material to collect from. Leaves on stems growing up tree trunks may also be sent in as long as they are lobed and do not have flowers or fruits.
Please do not send in: stem cuttings with leaves from flowering and fruiting stems. Click here to see an example. They have less lobes, becoming oval to spade-like in shape. They are not used for identification and should not collected (click here for an example of what and what not to collect).
Include on a piece of paper in the envelope with your sample, either in a separate bag with the ivy or outside of the bag of ivy to avoid moisture damage, the following information:
Name of collector
Name of ivy sample (to identify sample and if a collector sends in more than 1 sample)
Contact information in case we have a question
Date of collection
Location of collection (for example: an address, or street name, cross streets, or a park name)
Estimated size of ivy patch
And
Email a picture of the ivy patch the sample is from to noxiousweeds@agr.wa.gov. Please include your sample name in the email. Please note, this step is not required for submitting an ivy sample but could provide us helpful details.
STEPS FOR PACKING THE SAMPLES:
Wrap a damp, not soggy, paper towel or tissue around the cut stem ends
Place in an unsealed plastic bag
Place the bag in an envelope. The envelope may be padded or a regular 8.5 by 11 inch envelope is fine with the bagged sample.
Mark envelope "Live Plant Sample Open at Once"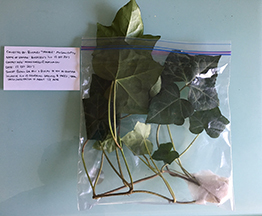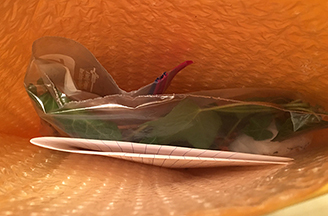 Please mail samples to:
Washington State Noxious Weed Control Board
Attn: Ivy Study
P.O Box 42560
Olympia, WA 98504-2560
Questions? Please contact us: noxiousweeds@agr.wa.gov or 360-725-5764
Thank you for taking part in this project!
Reference
Murai, M. 1999. Understanding the invasion of Pacific Northwest forests by English ivy (Hedera spp., Araliaceae). Master's thesis. University of Washington, Seattle