Become a Yard Guard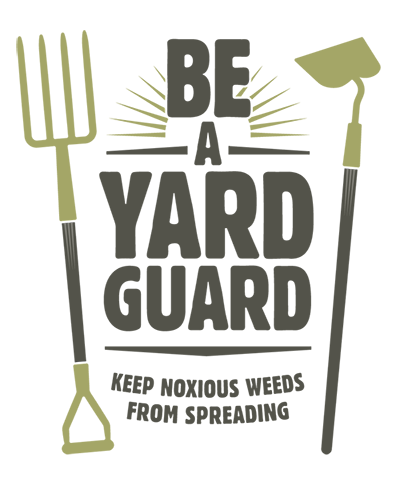 Noxious weeds have far-reaching impacts: Some noxious weeds are toxic to people or animals. Some damage infrastructure or reduce property value. Some increase wildfire risk or contribute to hotter or larger wildfires. Others limit outdoor activities and water access. Noxious weeds can degrade important wildlife habitat and natural areas and outcompete native plants. Now, more than ever, we must come together to reduce the damages caused by noxious weeds. Ready to make a difference in your community? By taking simple steps on our own properties, we can do much to help those around us. 
Join the movement: become a Yard Guard!
Noxious weeds affect us all, whether you have a small city lot or a sprawling ranch. To learn more about the ways that noxious weeds impact homes, communities, farms, wildlife, and natural areas, check out Noxious Weeds in WA: Everybody's Problem, Everybody's Solution. You can request a free copy of this or any of our other publications here. 
Who can be a yard guard?
Anyone can be a yard guard! All Washington residents can participate by following simple steps. Even if you do not own or maintain your own property, there are many ways that you can help in your community through education and volunteer events. After all, helping to prevent the spread of noxious weeds is the neighborly thing to do!
What are we working to achieve?
Yard Guards can help:
Prevent the spread of noxious weeds on their property, in their neighborhood, and in their community.
Educate friends, family, and their communities about their role and responsibility in noxious weed control.
Engage their communities in positive, collaborative efforts that will benefit us all.
Protect Washington State homes, communities, farms, natural areas, and wildlife from the impacts of noxious weeds.
How do I get started?
Ready to join Project Yard Guard? Here are some easy steps that you can take to help protect our agriculture, environment, and economy from noxious weeds. 
Want more? Follow us on Facebook for regular updates, tips, and suggestions.
Resources for Yard Guards