Publications
This page has some of our educational publications (booklets, pamphlets, tri-folds, information sheets and postcards) available for download. If you don't see what you're looking for, please check back periodically or email us. 
Choose one of the links below to be directed to the publications that best fit your needs or scroll down to view the entire list of available publications. Contact your local weed board or weed district office for physical copies of these publications. 
Would you like to request physical copies of our publications? Click here!
Magnets in our "Washington without noxious weeds is a wonderful sight" series.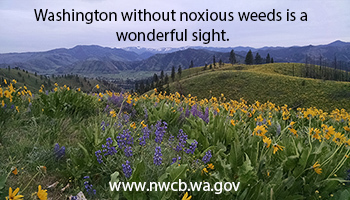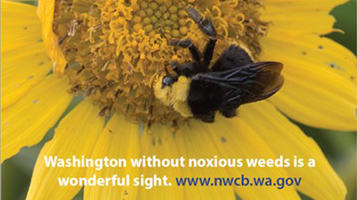 This 3.5 inch by 2 inch business card-sized magnet of native meadow wildflowers, with mountains in the background, can be requested along with our other publications on our publications request form here. We also still have some of our past bee magnets (Photo by Rod Gilbert) available - get yours today! 
I'm looking for publications...
about gardening with non-invasive species.
about noxious weed laws or general weed control.
to teach youth about noxious weeds.
about a specific weed species.
of the state noxious weed list.