​Bee-u-tify Seed Packets
Our Pollinator-Friendly Flower Mix
Your commitment to protecting our environment, economic resources, and recreational lands from invasive, noxious weeds does not need to come at the expense of bees, butterflies, and other pollinators. We are pleased to announce that our free Bee-U-Tify seed packets contain wildflower species that pollinators love and are native to Washington.  We have custom blends for both Western and Eastern Washington. While the perennial species in the mix require more tender-loving care to establish and flower, they offer lovely flowers that return year after year. Our newest packets also contain some native annual species to enjoy. Please scroll down the page for the lists of species included in each blend and information on how to care for them.
Important Notes:
As a few of these species are toxic to livestock, please plant these seeds in managed garden beds where livestock will not have access.
Although these species are native to Washington, the combinations of grassland, rangeland, and ornamental species used in the blends do not occur in the wild, so these seeds are intended for yards and gardens only. Please do not scatter them in natural areas.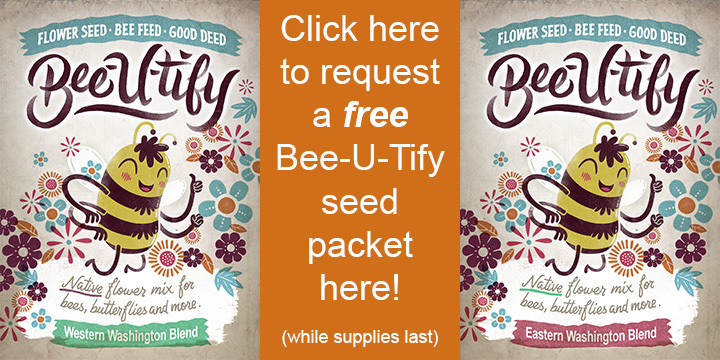 These brand-new flower blends are a fantastic way to attract pollinators to gardens and other landscaped areas and appreciate some beautiful, native plant species. We'll be giving out these free seed packets while supplies last! Share your Bee-u-tify flower gardens with us and we will add them to our gallery!

---
Help Pollinators By Controlling Noxious Weeds
We all want to do our part to help pollinators! Here are some important steps you can take:
Control noxious weeds on your property. Though some of our noxious weeds are known to benefit honeybees and other pollinators, these plants severely impact our ecosystem, natural resources, and agriculture. For example, yellow starthistle, while believed to make great honey, colonizes rangeland and outcompetes the wildflowers and grasses that wildlife and livestock need to survive, and its spiny flowerheads injure livestock and cause fatal chewing disease in horses. The benefits do not outweigh the ecological and economic consequences, especially with so many alternatives.
Plant and maintain pollinator-friendly plant species. Here's where those seed packets come in handy! Replace noxious weeds and under-utilized patches of land with native or nonnative, non-invasive pollinator-friendly plants, especially those which bloom from spring through fall. These plants provide bees with food throughout their active season. Check out Gardenwise (Eastern WA version here or Western WA version here), our popular booklet with suggestions for non-invasive plants to replace noxious weeds in gardens and landscaping. 
Follow pesticide application instructions carefully. While studies show that these products are not acutely toxic to bees when used correctly, it is always important to read and follow the instructions when using any weed control product.
Time your weed control to minimize bee impact. Bees are less active in the morning and evening, so these are optimal times for any control work you need to do. Additionally, controlling weeds during early spring, fall, and even winter when plants are not in bloom will help avoid interfering with busy bees. Have you seen our guide to protecting pollinators while controlling your noxious weeds?  
---
Create Your Own Bee-U-Tify Garden
These flowers are a mix of perennial, biennial, and annual species. You may not see flowers in the first year or two- don't despair! Once the plants have had time to establish, they will provide excellent pollinator forage. 
1. Choose the right site. Before planting, make sure that the area you choose is free of noxious weeds and away from livestock. Choose a garden or other landscaped area that you can easily access for care and maintenance. Most of the species in our seed mixes prefer to grow in at least partial sun. Each packet provides enough seed for a 9 square foot garden patch.   
2. Plant your seeds. 
For the Western Washington blend, we recommend loosening the soil to a depth of at least 12" for optimal growth. Plant your seeds at a depth of 1-2" and ensure that there is a soil cover over all of the seeds. Keep your soil moist but not drenched and maintain a weed-free bed as the seedlings establish. The best times to plant these seeds are spring and fall. 
For the Eastern Washington blend, we recommend planting in firm soil in cool weather. These seeds are best planted at a depth of 0.5"-1" with a layer of soil cover. These drought tolerant species do not need much water once they are well-established, however, keeping the soil moist when they are germinating and growing the first year will help them to get a running start. The best times to plant these seeds are spring and fall. 
3. Consider adding pollinator-friendly landscaping. There are many small, easy ways you can make your garden an oasis for pollinators. Some ideas are: 
Include a small ceramic or clay dish filled with mud for butterflies (they need the mud in order to drink, a process called "wicking")
Create a nest for native bees (check out this guide from the Xerces Society for step-by-step instructions!)
Provide overripe bananas, oranges, or other fruits for butterflies in a dish of lightly salted water
Place a hummingbird feeder with easy-to-make nectar near the garden
4. Share your garden! Educate your friends, families, and neighbors about the importance replacing noxious weeds with desirable plants such as native, pollinator-friendly flowers. If you send us a picture of your garden, we will feature it on our Facebook page! 
---
About Bee-U-Tify Seeds
The following Washington seed mix lists are ordered by percentage by total weight. While they will take more care to establish, the perennial species will provide flowers for many years to come. Look for annual species in the mix to flower the first year.
As a few of these native species are toxic to livestock, please plant these seeds in managed garden beds where livestock will not have access.
Although these species are native to Washington, the combination of grassland, rangeland, and ornamental species used in the blends do not occur in the wild, so these seeds are intended for yards and gardens only. Please do not scatter them in natural areas.
Western Washington Seed Mix Contents:
Eastern Washington Seed Mix Contents:
---
Sources of Native and Pollinator-friendly Seeds and Plants
Examples of native and pollinator-friendly seeds and plant sources in Washington and nearby include:
Detailed lists of native seed and plant sources can be found on the Washington Native Plant Society website and the Reforestation, Nurseries, and Genetics Resources website (from the USDA Forest Service and Southern Regional Extension Forestry), by searching on your state. The NRCS has also put together a partial list of vendors of conservation plants and seed for Oregon, Washington, and northern Idaho.
---
Additional Resources
There are many great resources to help you manage your weeds and help bees and other pollinators. Check out the following links for information:
Don't forget: your County Noxious Weed Control Board and your local Conservation District are always available to help you manage your weeds in a ecologically and economically responsible way. The WSU Master Gardener Program and the Washington Native Plant Society also offer resources and assistance for landowners and interested citizens.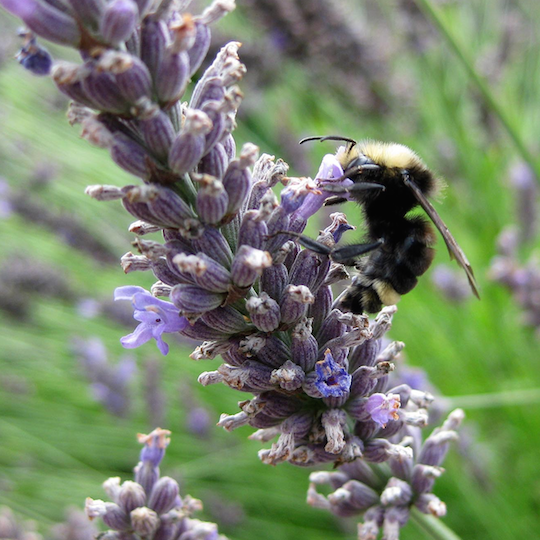 What We're Doing To Help the Bees
The Washington State Noxious Weed Control Board is made up of farmers, ecologists, resource managers, and a commercial beekeeper and we appreciate the importance of honeybees and our native pollinators. We believe that protecting ecosystems and agriculture from the impacts of noxious weeds while preserving and creating quality forage for pollinators is in the interest of all landowners in our state. 
We have been working to advance the cause of sustainable, pollinator-friendly weed control efforts. For example, the Board:
Created the brochure Bees and noxious weed control: finding common ground and Full Circle 
Control noxious weeds and grow healthy plant communities, which are intended for landowners, hobby gardeners, and horticulture/agricultural industry professionals alike.
Distributed almost 136,000 non-invasive, pollinator-friendly Bee-U-Tify seed packets in 2015 and 2016.
Has supported proposed legislation in 2015 and 2016 addressing the replacement of noxious weeds with native or nonnative, pollinator-friendly forage.
Has given several presentations on bee-friendly noxious weed control at pesticide recertification classes, beekeeper association meetings, and gardening events.