Common Barberry
Berberis vulgaris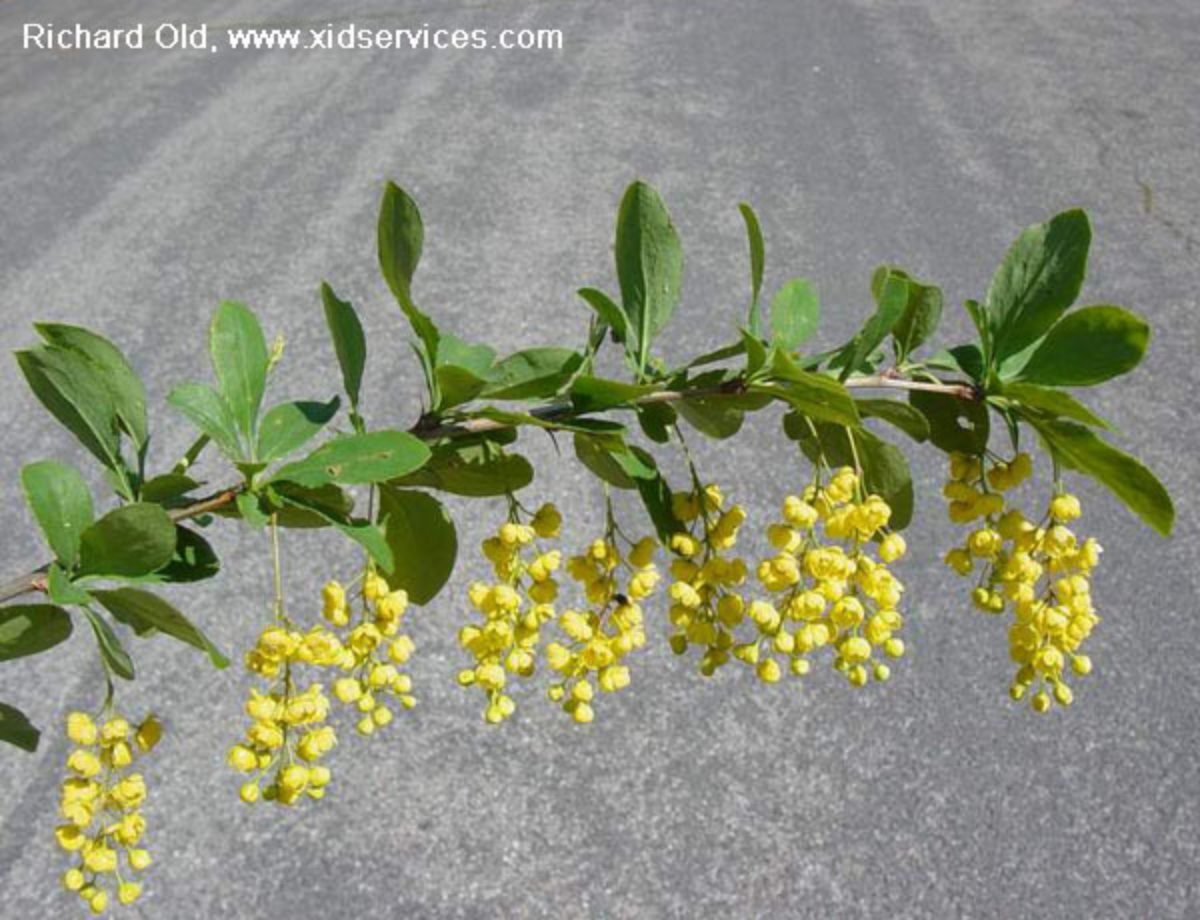 Family: Berberidaceae
Weed class: C
Year Listed: 2013
Native to: Asia and Europe

Why Is It a Noxious Weed?
Common barberry is an alternate host for stem rust which affects small grain cereals, such as wheat, barley and oats. Because of the importance of wheat as a crop in Washington and of recently reported increases in the incidence of rust and different rust races, it is listed as a Class C noxious weed.
How would I identify it?
General Description
Common barberry is a multi-stem, yellow-wooded shrub, growing 3 to 10 feet tall with gray bark on second year old stems.
Flower Description
The yellow flowers occur in drooping racemes of 10-20 and bloom in May and June.
Leaf description
Leaves occur in tufts along stems right above the spines. Leaves are deciduous, dull green, elliptic to obovate, typically widest above the middle of the leaf, and 1 to 2 inches long. Leaf margins are finely serrate, with (8-) 16-30 teeth that are tipped with spines or bristles.
Stem description
Stems with simple or more commonly three parted spines. Stems are elongate with short
axillary shoots.
Fruit Seed Description
Common barberry produces bright, orange-red, or purple, egg-shaped berries that can be up to 0.5 inch (10-11 mm) long and are juicy and solid.
May Be Confused With
Cultivated Japanese barberry, Berberis thunbergii, can look similar to common barberry. Japanese barberry is a species of barberry that is rust-resistant and often planted in ornamental landscapes. It has smooth-edged leaves and typically one spine at leaf bases.
Where does it grow?
Common barberry occurs on gravelly or rocky pastureland, fence-rows, brushy or wooded areas, and waste places. It can grow in full sun to somewhat shaded understories. Please click here to see a county level distribution map of common barberry in Washington.
How Does it Reproduce?
The plant spreads by seed or by rhizomatous growth, producing large-sized shrubs with dense
clumps of stems. Stem sprouts can grow from small rhizome fragments.
How Do I Control It?
General Control Strategy
Common barberry plants near wheat fields should have the highest priority for removal since the closer the plants are, the earlier the stem rust begins in the growing season, allowing more cycles of disease and greater damage.
Mechanical Control
Digging up small plants is effective, although it is important to remove all the roots or they will send up new shoots. This method can be time consuming and may not be feasible for large plants or thickets. Wear protective clothing and be careful of the spines when removing plants.
Herbicide Control
WSU Extension is testing methods using cut stump treatements. Cut plants down to the base and immediately treat using the labeled rate for brush stump treatment. Herbicides tested included imazapyr mixed with crop oil, applied in the summer or fall. Questions about common barberry control can also be sent to Diana Roberts, WSU Extension, robertsd@wsu.edu. Please refer to the PNW Weed Management Handbook, or contact your county noxious weed coordinator.
For More Information
See our Written Findings for more information about common barberry (Berberis vulgaris).
The WSU CAHNRS and Extension Research website on stem rust and barberryprovides in depth information on stem rust in the Pacific Northwest.

Additional Photos