Garden Helleborine
Epipactis helleborine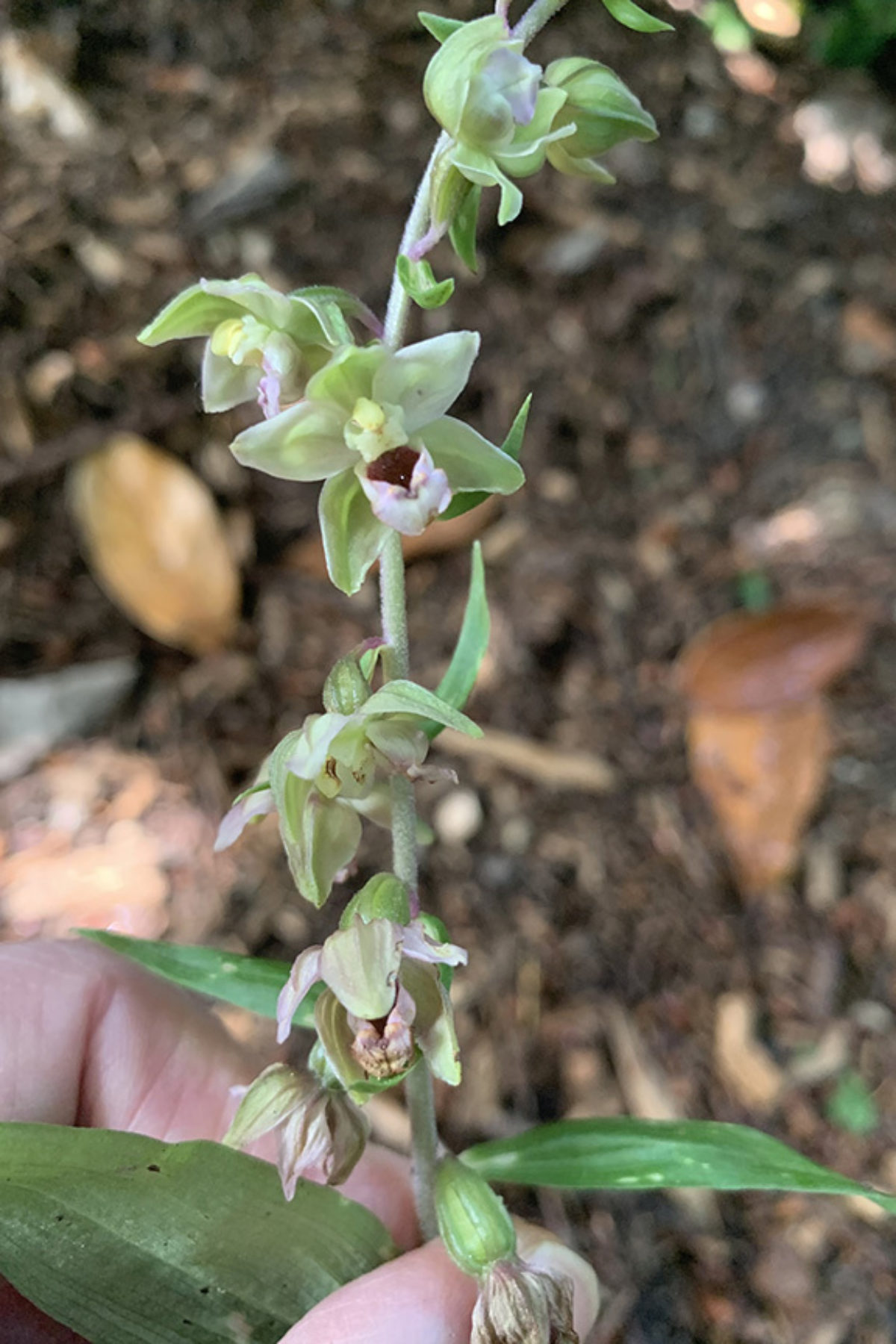 Family: Orchidaceae
Other Scientific Names:
Epipactis latifolia (L.) All., Serapias helleborine L.
Other Common Names:
broad-leaved helleborine, broadleaf helleborine
Weed class:
monitor list
Native to:
Europe
Why Is It a Noxious Weed?
This plant is on the monitor list - it is not a listed noxious weed in Washington. Please contact its sponsor Tim Miller via noxiousweeds@agr.wa.gov to report locations or for more information.
How would I identify it?
General Description
Garden helleborine is a perennial herbaceous plant that typically grows about 9.8 to 31.5 inches (25 to 80 cm) tall. Plants are sparsely to densely hairy. Flowers light pinkish-greenish color in somewhat one-sided inflorescence, blooming summer to early fall, then forming capsules with tiny seeds.
Flower Description
Inflorescence of many flowers, somewhat one-sided in arrangement. Each flower has three light greenish sepals and three petals. The top two petals egg-shaped in outline (ovate), 0.4 inches long (9 to 11 mm), and varying in color from light greenish, pinkish, purple or yellowish. The third (lower) petal with a different shape, called a labellum or lip, the base concave and purple to brownish and then towards the tip it is recurved, pinkish, triangular to egg-shaped, and flat. Under (subtending) each flower is a small lance-shaped to linear, leaf-like bract that is longer than the flower.
Leaf description
Leaves clasping stem, alternate arrangement, elliptic (oval to narrow oval) to lance shape in outline, 1.5 to 7 inches long by 0.6 to 3.3 inches wide  (4 to 18 cm long by 1.5 to 8.5 cm wide).
Fruit Seed Description
Capsule, egg-shaped, attached at the narrower end, 0.4 to 0.6 inches (9 to 14 mm) long, fairly hairless to hairy.
Where does it grow?
So far Epipactis helleborine has been found in western WA, in forested areas to open disturbed locations like roadsides as well as in ornamental plantings. Herbarium records can be viewed on the UW Herbarium website here. 
How Does it Reproduce?
By seeds and by roots.
For More Information
USDA APHIS page for garden helleborine
UW Burke Herbarium Image Database information on Epipactis helleborine

Flora of North America page on garden helleborine
University of Wisconson-Madison Botany page on garden helleborine
Additional Photos